Looking for some amazing gift ideas for yourself or your favorite ADV rider? Look no further! Bret-approved items are listed below. Spoiler alert: you'll want to snag some of these for yourself too. Happy gifting and riding!
Many links provided below are affiliate links.  If you click the link and make a purchase, we may receive a small commission.  Clicking on an affiliate link does not result in additional charges to you or cost you anything extra.
Well hello, wild thing on wheels! Ready to flaunt that rebellious motorcyclist persona of yours? Look no further – we've got the ideal summer jersey that's as light as a feather. It's the perfect statement piece to let everyone know you're a fearless ADV rider, unafraid of what the trail might bring. Priced at $85.
These Double Take mirrors are like your bike's own personal cheerleaders – they're worth a double take! Tired of those pesky mirror snaps every time you take a spill? Fear not, my two-wheeled friend, these mirrors have got your back (or should I say, your sides?). With an adjustable knob, these mirrors are like the Goldilocks of bike mirrors – not too high, not too low, but just right for any kind of riding style. Plus, they're versatile enough to even hold your GoPro! So go ahead and take that sweet jump you've been eyeing, because these mirrors will be cheering you on all the way.  Priced at $145.
Move aside, unfair bike treatment! Giant Loop has the solution to our glove boxless woes – the handlebar bag that seems like it popped out of a genie's bottle! Instead of three wishes, you get a place to keep your papers, credit cards, keys, and even your phone during rainy rides. And the cherry on top? You don't have to stop, dismount, or do any fancy business to access your belongings! Mount it and be on your way! It's like magic – but even cooler. Priced at $49.
CRAMP BUSTER THROTTLE ASSIST
We've got here the most… unique-looking gadget on our list. But trust me when I say, it's a game-changer. Come on, we've all been there – tired wrists, endless asphalt, longing for the thrill of the trail. And that's where our little friend here comes in. Cruise control ain't got nothin' on this throttle assist! It's like having a personal assistant for your hand. So sit back, relax, and let the good times roll (literally).  Starting at $11.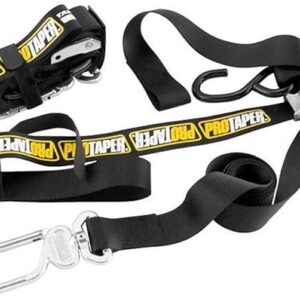 Riding a motorcycle is thrilling but transporting it can be a nightmare. Fear not, dear friends! These straps are like the superheroes of the transportation world. They will keep your precious bike secure whether it's in a truck, on a trailer, or in a U-Haul (because we all have dreams of owning a U-Haul, right?). And let's not forget about those roadside rescues – these strong and reliable straps will keep that bike upright even on the most treacherous terrains. So if you're tired of worrying about your two-wheeled beauty and want to give yourself some peace of mind, look no further. These straps won't let you down (or your bike, for that matter).  Starting at $36.
Looking to add some flair to your bike? Check out these tough-as-nails stickers that can handle anything life throws their way! Don't let a little wear and tear cramp your style. These decals are built to endure the most treacherous scrapes and bring some serious mojo to your ride. Let's face it, our attitude can make or break any situation, so why not stick a few of these on and elevate your adventure?  Priced at $3.50.
Boring socks and basic fruitcakes?  Nope, the Mitas rear tire has arrived! Whether you're tackling the trails or cruising down the road, this all-rounder is sure to make your ride smoother than Santa's sleigh. And don't worry, you won't have to get another one anytime soon, with its excellent mileage. Plus, let's be real, who wants more noise, less grip, and a muddy mess with the E-07+? Stick with the reliable and versatile Mitas E-07 rear tire – it's the gift that will keep on giving! Get ready to be the Santa of the year with this ultimate gift.  Starting at $129.
Picture this: You're all set to go on a fabulous winter ride. The sun is shining, the snow in the trees is pristine, and you're ready to feel the wind in your hair. But wait, what's that? Your bike won't start! Your battery has completely abandoned you! Don't let this happen to you. Enter: the jump starter. This little lifesaver is the perfect size to bring with you on any ride. Say goodbye to being stranded and hello to getting back on the road in no time. With this jump starter in your pannier, you'll be the hero of every ADV group ride.  Starting at $55.
Well, well, well. Look who we have here. The Hippo Hands, ladies and gentlemen. Sure, they may not win any beauty contests, but when it comes to protecting your hands during nasty weather, they're the MVPs of the game. Those dinky little heated hand grips? Pshh, they ain't got nothing on the Hippo Hands. With these bad boys on your bike, you can wear summer gloves in a blizzard and still feel like you're sipping margaritas on a beach in Hawaii. Who needs a tropical getaway when you have the Hippo Hands? They're the ultimate wingman for any weather warrior.  Priced at $160 / Use code TKACS at checkout.
Listen up, folks! If you think you can carry everything on your motorcycle without a set of Rok Straps, then you might as well be riding a unicycle. These babies are essential for any bike, big or small. Need to strap on a trinket you found while cruising down the road? No problem, grab the small straps. Ready to make a lumber run to Home Depot? We got you covered with the larger ones. Seriously, you should never leave home without a set of these bad boys. Unless, of course, you prefer the feeling of things falling off your bike and hitting you in the back of the head while you ride. In that case, carry on without them.  Starting at $24.
Let's ditch the dull and spice up our Christmas lists with a little bit of Rain X magic!  Because what's worse than having our gloves smearing our vision while we drive down a dark, rainy road, right? Fear not, my festive friend! Rain X has been tried and tested by none other than Bret himself for 34+ years, and he swears by its power! Say goodbye to those pesky raindrops on your helmet shield and hello to a safer and more enjoyable ride with Rain X.  Starting at $12.
Pssst! Adventure junkies! If you've been around the block a few times, you know skid plates are the real hero of off-road riding. And if you're looking for the creme de la creme, we've got a hot tip for you. Black Dog Cycle Works has got THE skid plate that will make your bike sing. Bret's tried every skid plate under the sun (we're talking a LOT) and this bad boy is the only one that's kept up with his wildest stunts. Yes, it might add a few pounds to your already-beefy ride but let's be real, protecting your engine is worth it. Trust us, your bike will thank you later.
Hey there, cup questioner! The answer is not just yes, it's heck yeah! These cups are made of silicone, so don't even worry about roughhousing with them. Silipint cups are not your ordinary cups, they are basically magic-wielding cups! They are so amazing that they have the power to remind you to have a positive outlook no matter what your ride throws at you. Go ahead, treat them however you want, toss them loose into your pannier, because these cups can handle anything you throw their way. So get ready to be swept off your feet by the ultimate cups! Priced at $14.
If you're looking to impress your partner with some fresh motorcycle gear, forget scrolling through endless options – the Rev'It! Defender 3 GTX suit has got you covered… literally! This baby will keep you comfy through all climates and seasons, from scorching hot heatwaves to wet, chilly downpours. And get this: the GTX (gore-tex) liner is totally removable, so you can sweat it out without ruining your sweet new threads. This isn't just any old suit – it's the real deal, made for true journeyers and explorers. Give it a spin and start revving up your style!  Jacket is $900; full suit is $1,600.
RUST-OLEUM BEDLINER SPRAY
Oh, the joy of Christmas! What better way to celebrate than with a can of bedliner spray…? Not only does it give your motorcycle a sleek new look, but it's also a miracle-worker for your trusty windscreen. It's not just about hiding scratches and dirt, but it's also the ultimate shield to protect your precious electronics from the sun's glare. With this secret weapon, you won't have to worry about bad weather cramping your style – no squinting through headlight reflections for you! As you rev up your motorcycle, don't forget to give your windscreen the gift of this nifty innovation. Starting at $12.
Well, well, well, look who wants to join the Bret Tkacs fan club! Don't worry, we won't tell anyone you're a total groupie. And nothing screams "I'm a badass" quite like slapping one of our logo decals on your ride. Trust us, these decals are tougher than Chuck Norris and will survive any adventure ride you can dream up. Plus, you'll be supporting our channel and making all your friends green with envy. So go ahead, give in to your groupie tendencies and grab yourself a Bret Tkacs logo decal. It's the cool thing to do. Priced at $3.50.
ROTOpax 1 gallon gasoline
Looking to up your fuel game? Say hello to RotopaX, the sassy and not-so-stylish fuel container that everyone is talking about. Not only are they leak-free in drastic temperature variations (win!), but they're also perfect for stashing that mower fuel during the off-season. And don't forget to buy the mounting bracket – it's so game-changing, you'll wonder how you ever lived without it. Move over, other portable gas containers, because RotopaX is the king of the fuel container jungle. Price starts at $63.
Listen up all you daredevil ADVers! It's time to gear up and ride like the wind. Don't be a statistic and get yourself (or your beloved ADV rider) a rockin' pair of Sidi Crossfires! These boots are no joke – they'll keep your ankles feeling like a million bucks even after facing the toughest terrains out there. Bret, the ultimate riding guru, swears by them. So, what are you waiting for? Add some style and protection to your ride with Sidi Crossfires. Your ankles will thank you! Starting at $575.
Ladies and gentlemen, gather round for a hot tip! Bret's got a secret weapon that takes his ride to a whole new level of comfort and ease. You know those funky orange Arclite glasses he wears? Yeah, those are the ones! Talk about eyewear that does it all – they're like the MacGyver of sunglasses. They'll protect your peepers from any impact without being polarized, and they've got you covered – literally, cheek to eyebrow – no need for bulky goggles. And guys, those earpieces are flat-out genius! You can adjust them and get rid of those pesky headaches. And the best part? These glasses are equipped with some sort of magic potion that defogs them on the fly. Oh, and did I mention the amazing selection of lenses that make the world a clearer place? Bret is smart to never leave home without them, and you should follow in his footsteps (or bike tracks, I guess). Starting at $63 / link above gives you 20% off.